[ China Instrument Network Instrument Development ] From September 25th to 27th, the "LAMOST Laser Beacon System" project at the National Astronomical Observatory in Hebei Province passed the acceptance of experts organized by the Chinese Academy of Sciences, and the project was supported by the major science and technology infrastructure projects of the Chinese Academy of Sciences. Next, the team of Li Guoping from Nanjing Astronomical Optical Technology Research Institute and the team of Fujian Institute of Physical Structure Lin Wenxiong worked together.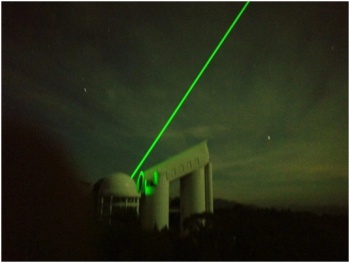 The green laser developed by Lin Wenxiong as the core component of LAMOST, a laser beacon, produces a laser star of about 7 in the center of the telescope near 12 km, and samples the Rayleigh scattered light wavefront of the atmospheric molecules. The surface data of the telescope is obtained and transmitted to the actuator to realize active optical correction of the telescope.

In the process of laser development, in order to overcome the optical distortion problem of ultra-long laser cavity, the innovative use of timing control and 4f image transfer technology broke through the bottleneck of 20 ns pulse width of general industrial use laser, and developed a 65 ns pulse width laser. . In order to make the laser adapt to the ambient temperature of -30 °C ~ +40 °C, on the one hand, the material with lower thermal expansion coefficient is used as the laser bottom plate, and the laser cavity is in a stable cavity state through reasonable optical design; on the other hand, independent research and development The adaptive optical mount can use its own deformation to offset the stress caused by the environmental temperature change, and ensure the stability of the laser cavity when the ambient temperature changes. These technologies provide a strong guarantee for the realization of 7-day laser stars and accurate measurement of Rayleigh scattered light waves. The relevant research work has applied for 3 patents, including 2 patents and 1 article.

The laser indicators are better than the contract indicators: laser power 33 W, power stability 0.7%; repetition frequency 12 kHz; pulse width 65 ns; beam quality M2 = 1.3. At the acceptance summary meeting, the stable performance index of the laser has been highly praised by the expert group. The artificial beacon generated by the laser has greatly shortened the correction time of the active optics, improved the sky-lighting efficiency of LAMOST, and independently developed for atmospheric correction in China. The laser guided star system provides an important technical reserve.

(Original title: The core laser source of the LAMOST laser beacon system of the major science and technology infrastructure project of the Chinese Academy of Sciences passed the acceptance test)
Auto electronics
Guangzhou Ruicheng Enterprise Services Co., Ltd. , https://www.rayparts.cn