Looking back at the economic buzzwords of 2013, the term "subversion" has become the subject of greatest concern to industry elites and entrepreneurs during the year. From the gamble between Ma Yun and Wang Jianlin to the betting between Lei Jun and Dong Mingzhu, the Chinese economy has had many landmark events that can be described as "subversive". The financial industry's transformation triggered by the impact of the Internet, the fact that WeChat engulfed the nation, and the fear of manufacturing industry caused by the rapid rise of Xiaomi, the impact of the new economy on the traditional economy has constantly touched people's nerves. People have already felt strongly that the new economy, represented by the Internet, has penetrated into many traditional industries and has exerted a debilitating influence on these industries. Many companies have had to open up their brave men to profound changes.
The traditional automobile industry giants do not seem to have felt the "subversive" consequences that this change may cause. They remain silent in the glory of the car empire yesterday. After more than one hundred years of development, the automotive industry has formed a perfect global division of labor system from parts production, procurement, assembly, distribution and after-sales service. The entire industry chain is closely integrated upstream and downstream, and the industrial division of labor and layout In order to improve, relying on a huge industrial capital and financial capital, the automobile industry has become an extremely powerful economic entity.
Those auto giants accustomed to "manufacturing thinking", even after discussing the new economy for many years, still do not quite believe how much the auto industry landscape can change, compared to the arrogance of "Kodak" and "Nokia". It is worse than nothing. However, Tesla has come, and many of the impossible have become a reality. At this time people began to believe that the automobile industry may have another possibility. What is even more uncanny is that some companies that originally did not take sides with cars tried to redefine the car through the penetration of new energy and IT technology. Every year at the CES show, there will be some "gross guys" with their " The appearance of a toy car made the audience cheers. There is a group of young people in Google who even think that cars can be drivers.
Tesla and Google are just the beginning. They can't represent the whole new economy and the car. Then, as the shareholder of value in the traditional automobile industry chain, in the face of the advent of the new economy, what opportunities and challenges will they face and what choices will they make?
1. As the initiator and the biggest beneficiary of the global division of labor, the host manufacturers rely on their huge capital strength and brand marketing capabilities to form an industrial ecosystem centered on the host plant and based on global procurement. This kind of "central-periphery" type of modular organization is well adapted to the division of labor in the traditional manufacturing system, where capital is the link and strength is high.
However, the main organizational form and business model of the new economy are very different. It requires users to keep abreast of their needs, to achieve user customization, to produce and circulate quickly and efficiently, and even to attract users by free means. Any of them It is these traditional host manufacturers that are difficult to achieve in the short term.
Host companies may have seen the shortcomings of the traditional model. Old car giants such as Mercedes-Benz, Chrysler and Toyota have begun to engage in in-depth strategic cooperation with Tesla and used Tesla's open charging network to provide self-produced electric vehicle users. Lifetime charging service. However, they also believe that there is a big difference between auto companies and technology companies. It is very unlikely that they will serve users as technology companies do.
2. Energy companies I have always believed that the translation of the word "car" is extremely unsuccessful. No matter whether it is automobile or vehicle, it does not say that the car is powered by gasoline. The foreigner has long expected that gasoline will be replaced one day. I believe that after 20 or 30 years, the word "car" will become an antique word in Chinese, just like "film."
As the vehicle's power system is changed, fuel suppliers will naturally disappear from the automotive industry chain, and new energy providers will join in. It is also possible that oil companies can indirectly provide transportation for automobiles through N types of energy conversion links. What changes will be made to energy suppliers characterized by monopolies and mandatory plans will not be able to say for the time being. This will depend on The result of a multi-stakeholder game. But in any case, energy consumption is a must for vehicles, but it is only in a different form. The power system has been changed. For another type of enterprise, it is simply a nightmare. It is part manufacturers.
3, Parts suppliers Parts manufacturers are generally a group with no sense of security. Under the traditional pattern of division of labor, component manufacturers have to be strictly bound by the procurement policies of the host manufacturers. Their production sites, investment scale, supporting capabilities, and output indicators will all depend on the attitude of the host manufacturers. Their only goal is to Try to make every effort to satisfy the host manufacturers.
Once the reform of the energy and power system brought about by the new technologies has become a reality, the production strategies of the host manufacturers have to make major adjustments. Most of the parts and components companies that are known for their mechanical power system manufacturing have to fall into the embarrassing situation of closing the door. , fish and fish." Even if the mainframe manufacturers are still willing to continue to cooperate with the original parts suppliers, the upgrading cost of production facilities is also huge.
Of course, it should also be noted that the majority of people who can play with car gurus are not vegetarian. They also have their own plans and are ready to do both. While embarking on the establishment of an aftermarket marketing distribution system, it should be as close to the end user as possible; while preparing for the development of a new generation of auto parts, it should focus more on automotive electronics. Judging from recent observations, traditional large-scale component companies, such as Bosch, China, Delphi, etc., are all the same.
Optimistically, for some powerful component giants, the industrial changes brought about by new technologies are not necessarily a bad thing. Through reshuffling, it is still uncertain who can dominate the future development of the auto industry.
4. Auto service providers Auto service providers are the most complex components in the auto industry chain, and they have the most opportunities. Whether it is a veteran developed country or in China, the focus of profitability in the automotive industry has long shifted from vehicle sales to after-sales service. At present, the problem of the domestic automobile after-sales service market is mainly due to the fact that the market is too fragmented and lacks industry leaders, so that it is unable to form a decisive influence on the entire industry. However, industry consolidation is a major trend, and there will be some giant companies in automobile service providers. This is true with Japan. Judging from the distribution of terminals under the auto service line, 4S stores, fast-repair chains, and roadside shops can be described as three points.
4S shop can be regarded as a high-sales car service provider inside, with the advantages of preconceived, mastered a large number of user resources, many early entry into the 4S shop has already earned enough pity. However, in recent years, with the increase in business costs such as manpower and rent, and the intensification of competition, the days of 4S shops have become more and more difficult. They have tried to make some changes, such as downsizing, decentralizing operations, and shifting their focus from "sales". "service".
In the face of difficulties in the operation of the 4S store and lack of expansion, automobile service chain companies with rapid repair and beauty as the main business contents took the opportunity to emerge. This type of auto service store has low investment costs, flexible business, and close to users, with a chain business model. The mature routines have been developing vertical and horizontal links, quickly siege cities and grab a small market share. However, according to the current situation, most of the fast-repair chains are still at a loss, and the scale, profitability, and brand influence have not yet formed enough to compete with 4S stores.
The most inconspicuous but the most numerous is the car wash beauty service stores known as "roadside stalls". These stores have simple facilities and low human cost. Although the image is not very good, they are often conveniently located and widely distributed. It is flexible in operation and has gained a lot of approval from low-end users.
Other types of traditional service companies related to automobiles are more, including driver training, car loans, insurance (safety insurance), claims, and annual inspections. The automobile service providers related to IT mainly include e-commerce platforms, used-car trading platforms, O2O platforms, and car networking companies. There are huge business opportunities here, but competition is fierce and innovation models emerge in endlessly. Judging from current development trends, changes in the field of automotive services are most likely to come from such IT-related service companies.
5. Enterprises that can mobilize users from outsiders are, in a strict sense, "barbarians at the entrance" that are not on the automotive industry chain, but they have strong user mobilization capabilities. It must be admitted that in the Internet age, people's minds are heavenly, and users are the ones who have the world.
Now we can see that there have been major impacts on the automotive industry, mainly car rental platforms, car-launching software and new media platforms. These types of service providers are often able to play a role in attracting passengers, diversions, and influencing user choices, whether they are in the country or not. In Europe and the United States, this new type of business has actually affected the way users use cars, and then forced upstream manufacturers and service providers to make changes, such as uber, car home and other companies. For the disruptors in many industries, "carrying users to make princes" is an irrefutable and time-tested truth.
In the past more than one hundred years, the core function of the car has been as a means of transport and delivery vehicle. In a specific stage of development, the car has become an identity tag. The car company will have the core functions of the car and the car users. These emotional appeals are subtly combined to greatly satisfy the needs of consumers and thus acquire unimaginable wealth. With the further penetration and integration of various high technologies, the car has gradually upgraded to a multi-functional, multi-purpose super mobile carrier and terminal, which will inevitably bring about a new user experience and value experience, redefining the "car". The time has come for the products! The penetration and integration of the new economy has created a huge imagination for the future development of the automotive industry. Only those companies that truly understand the needs of users, are willing to make changes, and have the ability to grasp development opportunities will be able to become new. The leader.
Working principle:
Steel strip is made into Z type keel by machine through cold-bend forming technology.
Usage:
Z keel produced by roll forming machine are widely used in construction, transportation and other industries. It is mainly used for roofing and wall of buildings, such as steel structures, airports, storehouses,etc.
Component:
1.Decoiler
2.Roll Forming System
3.Punching system
4.Cutting Device
5.Hydraulic Station
6.PLC control system
Working Flow:
Loading coil – decoiling – guide feeding – main roll forming – hydrarlic cutting – finished products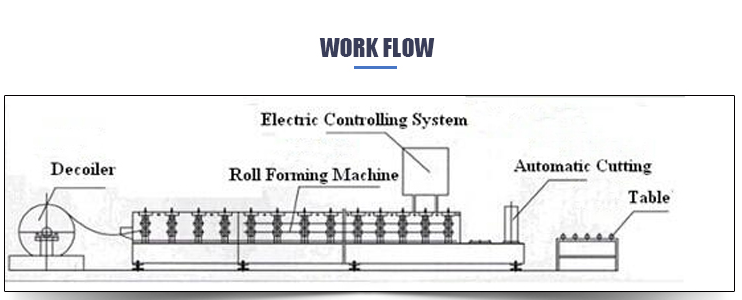 Technique parameters:
Processing material: aluzinc/galvanized steel/colored steel coil
Material thickness: 0.3-2mm
Main motor power:4kw(can change as request)
Pump power: 4kw
Shaft diameter: 75mm
Forming steps: 15steps and more
Roller material: high grade 45# steel, hard Chromium plating
Main frame: steel tube frame
Medium plate thickness: 16mm
Speed:8-12m/min
Material of the cutting blade:Cr12
Control system: PLC computer control
Power supply: 380V, 3 Phase, 60Hz (can change as customers request)
Our Z Keel Roll Forming Machine can greatly simplifie the production process and improve production efficiency. Customized profile keel roll forming machine can be produced.
Welcome visit our Factory!
Z Keel Roll Forming Machine,Light Steel Z Channel Roll Forming Machine,Z Shape Channel Purlin Roll Forming Machine
CANGZHOU DIXIN ROLL FORMING MACHINE CO., LTD , http://www.hebeimachine.com