A few days ago, many shipowners said that the global shipping market outlook has a clear optimistic trend, but the fundamental problem of excess capacity still casts a shadow over the shipping industry.
BW Group Chairman Andreas Sohmen-Pao said that the current crude oil price has dropped to an unexpected level of 50-60 US dollars per barrel, becoming a clear benefactor in the crude oil shipping market. However, the shipowners who have recently made a quick profit have created more Crude oil ships have aroused people's attention.
Although the current freight rate of crude oil ships has returned to the level of profitability, the creation of "too many ships" will lead to a recurrence of excess capacity, and the problem seems to be difficult to solve.
Teo Siong Seng, managing director of Singapore's Pacific Shipping (PIL), said that the biggest challenge now is still a huge number of newbuildings. In the past few years, due to "imaginative financing," some new ships that should not appear. The order is still continuing. He hopes that the owners of these new ships will be more responsible.
Claus V Hemmingsen, executive director of Maersk Group and president and CEO of Maersk Drilling Company, pointed out that short-term supply and demand imbalances are difficult to resist long-term optimism, operators are ordering more and larger container ships to reduce operating costs and ensure long-term benefits for the world. Trade provides a sustainable development environment.
The container shipping market is still on the verge of expected supply capacity exceeding market demand. Among them, larger container ships will affect multi-Europe trade routes, most of which have no suitable infrastructure to accommodate these very large container ships.
Container shipowners are ordering more and more 10,000 TEU container ships to reduce operating costs and improve fuel efficiency.
Khalid Hashim, managing director of Precious Shipping, pointed out that the dry bulk shipping market has been plagued by low freight rates, but bulk carrier owners can expect longer-term positive demand.
"For the recovery of the world economy, I hope that oil prices will remain low." Hashim explained that commodity prices, oil prices and commodity prices have fallen by 5%, oil prices bottoming out and higher import and export trade is a good sign for the bulk carrier shipping market. .
Hashim commented that in order to survive, bulk carrier owners need to scrap old ships, divest non-core assets, ensure diversified financing channels, and reduce operating costs while improving operational efficiency.
Industrail Oxygen Generator is a machine producing oxygen from air. It only consumes electricity to get oxygen. It use Air Compressor to supply raw material, compressed air. The the compressed air is treated by three filters, one dryer and one oil remover. After treatment, the clean air goes into oxygen separator, in this part, the oxygen is separated and collected from air. Its flow chart is as below:

Its structure is like this: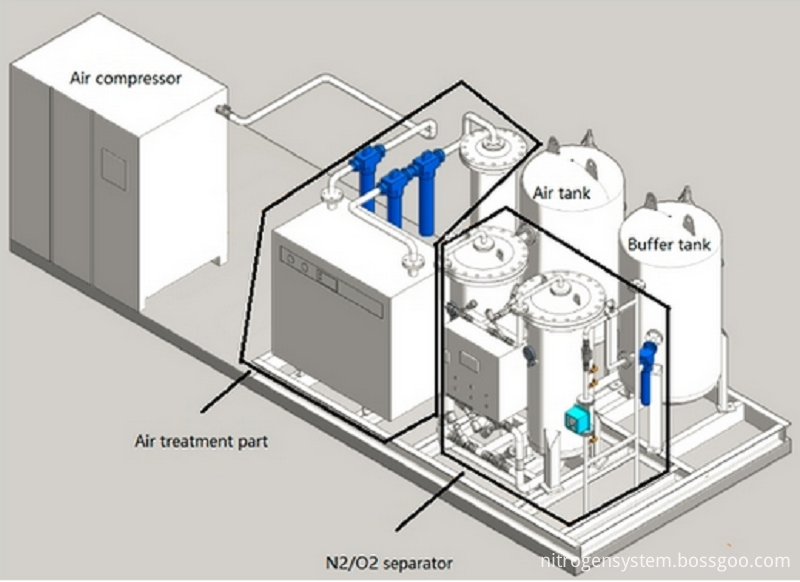 Industrial Oxygen Generator specification:
Flow rate: 2-300 Nm3/hr
Purity: 90-98%
Outlet pressure: 5-10 bars.
Oxygen generator applications:
Refinery: electric arc furnace iron making, oxygen combustion assistance;
Environmental protection: drinking water treatment, waste water treatment, paper blanking, biochemical treatment of sewage;
Chemical industry: various oxidizing reaction, ozone generation, coal gasification;
Medical industry: Oxygen bar, oxygen therapy, sports healthcare;
Aquaculture: sea water, fresh water cultivation
Industrial Oxygen Generator
Industrial Oxygen Generator,Industrial Psa Oxygen Generator,Industrial Medical Oxygen Generator
Shandong Gamma Gas Engineering Co. Ltd. , http://www.gammagas.com